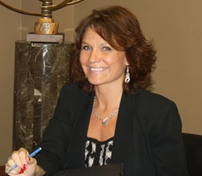 Kelly S. Nagel, CPA is the owner of Kelly S. Taylor CPA, P.C. She has over eighteen years of public accounting experience and prior to that worked for private companies for 10 years. She moved to Kansas City in 1997 where she graduated Summa Cum Laude from Park University with a Bachelor of Science Degree in Accounting, after which she passed the CPA exam to become a licensed practitioner.
She provides taxation and accounting services for Corporations, Limited Liability Companies, Partnerships, and individual taxpayers.  Her specialty is to provide support and expertise  to small business owners and individuals by way of business and tax planning and compliance.  She also consults in establishing new businesses, as well as assisting clients in maintaining accurate and reliable accounting records and developing internal procedures. In addition, she commonly utilizes the services of attorneys, lenders, investment advisers, and other CPA's in order to provide the best services possible to her clients.
She is a member of Missouri Society of Certified Public Accountants and the American Institute of Certified Public Accountants. She is licensed by Missouri State Board of Accountancy and Kansas Board of Accountancy.