About Us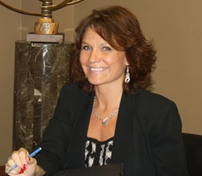 Kelly S. Nagel is the owner of Innovative Tax and Accounting Solutions CPA, PC.  She has over 30 years of accounting experience, 23 of which has been in public accounting.   She moved to Kansas City in 1992 and completed her education at Park University, after which she passed the CPA exam to become a licensed practitioner.
"After all of these years I still love what I do.  My role as a CPA is not crunching numbers.  My role is to be a trusted advisor and problem-solver.  I enjoy working side by side with my clients and helping them to achieve their goals."
She provides taxation, consulting and accounting services to Corporations, Limited Liability Companies, Partnerships, individuals and Not for Profit Organizations.  Her specialty is to provide support and expertise to businesses and individuals by way of business planning, tax planning and compliance.  She also assists clients by helping them select the entity type best suited to their needs and helps to establish and register their businesses with the proper governing authorities.  In addition, she commonly partners with other professionals to provide the best possible service.  This includes attorneys, financial advisors, bankers, bookkeeping services, and even other CPA's.
She stays involved in the community through various not for profit organizations including the Gladstone Area Chamber of Commerce, currently their acting Treasurer.  She is a member of the American Institute of Certified Public Accountants, the Missouri Society of Accountants.  She is licensed by the Missouri State Board of Accountancy and Kansas State Board of Accountancy.